Eyeglasses can significantly affect the quality of your life by improving your vision and view of the world. Finding the right pair is easy once you've had a comprehensive eye exam at Total Vision La Mesa. After the optometrist updates your prescription, if required, one of our opticians can help you choose the perfect pair to meet all your needs.
But glasses can be a hassle sometimes, such as when they tend to slip sneakily down your nose and you repeatedly have to push them back up. It's distracting and annoying. So you wonder, is there a solution?
If your glasses have a poor fit, ask your optician to adjust them, or better yet, ask them to suggest a style that works for your face. Let's look at the causes of slippage and what you can do to stop your glasses from slipping.
Eyeglasses Function & Fit
Eyeglasses should meet all your vision needs and are essential for 3 things:
Comfort: Tight or the wrong fit of glasses can cause eye strain, nose pain, and headaches.
Safety: Slippage can cause a distraction and obstruct your vision until put back in place.
Appearance: Poorly fitting glasses can affect your professional image and how others view you.
You may inherently know how your glasses should feel and sit on your face, but you may not know what to look for in a properly fitted pair of glasses. Since we all have different facial features, here are some basics on how eyeglasses should and shouldn't feel:
Eyeglass frames should line up horizontally with the center of the eyes.
Frames should only extend as high as the eyebrows.
The pupil should be in line with the center of the lens.
Eyeglasses should sit comfortably on the nose without imprinting marks.
The frames should balance equally across the bridge of the nose.
The bottom of the frames should be closer to your face than the top.
Eyeglasses shouldn't rest on your cheeks when you smile.
Frames should feel secure over and around your ears.
Eyeglasses shouldn't budge when you nod, look down, or shake your head.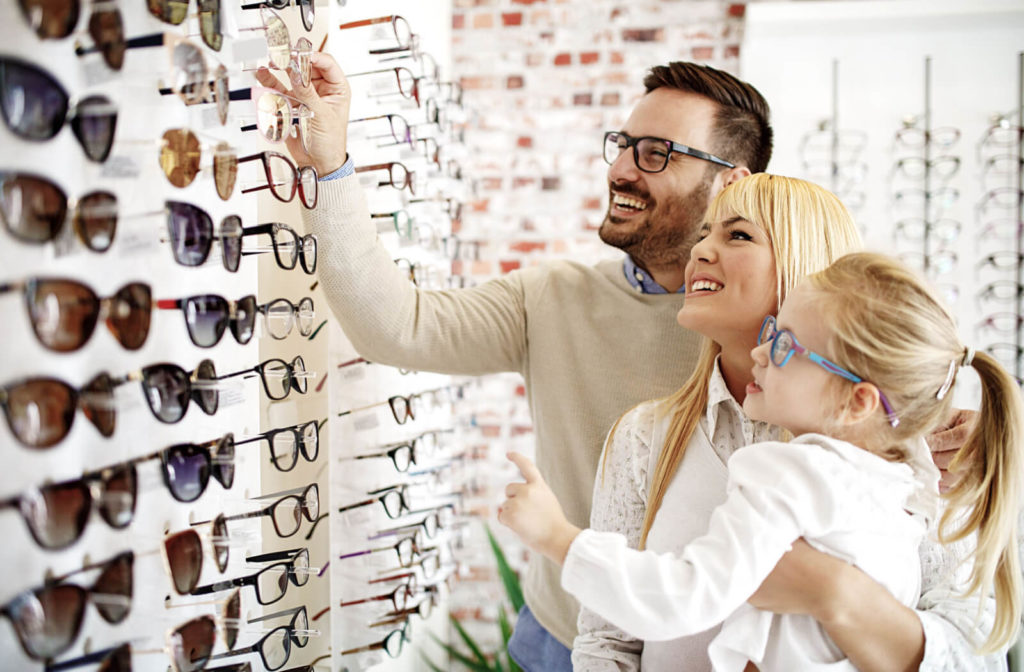 What Causes Eyeglass Slippage
If your eyeglasses slip from the beginning, they're probably not the right fit. They can also loosen over time. Your glasses may also slip down because:
The frames are too wide, heavy, or loose.
You have naturally oily skin.
Your face is slim.
The bridge of your nose is narrow.
The frame arms don't sit at the right angle.
Solutions to Keep Your Eyeglasses from Slipping
If you notice you have to constantly readjust your glasses throughout the day, it might be time to visit your optician. They can make the necessary adjustments to help your glasses fit comfortably and securely.
Align Crooked Glasses
Are your glasses crooked? You can find out by setting them on a flat surface with the rims down. If the ends of the arms don't touch the surface or only one arm is off the surface, you may need an adjustment.
Your optician will use heat to carefully and gently bend the arms and realign your glasses so they fit more snugly.
Loose Arms
Do your glasses feel loose, uncomfortable, or constantly slip? The arms (called the temples) may be too loose.
Your optician will adjust them by tightening the temples and ensuring they fit snugly but comfortably on the sides of your face.
High or Low Frames
Your glasses should sit comfortably and be unnoticeable on your face. If the nose pads leave marks or feel generally uncomfortable, they're likely too tight. Alternatively, if your glasses sit too low on your face or slip down your nose, the nose pads are likely too loose.
Nose pads are easily adjusted at home by gently bending them inwards to make them tighter or outwards to make them looser. If you're unsure what to do, your optician will happily help you adjust your glasses so they're comfortable and secure.
Non-adjustable Nose Pads
If you have glasses that don't have nose pads, they may need to be adjusted where the arm bends over the ears. Your optician will carefully bend the arms slightly inwards and downwards to ensure they fit snugly around the ears or bend them upwards and outwards to loosen how they sit around your ears.
Loose Eyeglass Hinges
Most glasses have screws that can become loose from constant use. You can easily tighten them yourself, but remember to go slowly and gently: the screws are small, delicate, and can strip easily.
If you're worried about damaging them, your optician will be happy to help!
Hassle-Free Eyewear
If you wear glasses, they've likely slipped down your nose at some point. While you can make minor adjustments yourself, Total Vision La Mesa can help you find the perfect pair and fit them to your face to prevent slippage. If you have concerns about your or your child's eyeglasses or vision, contact us to make an eye exam appointment. You can also book an appointment to view our budget-friendly and stylish range of products.